It's a big night and an even bigger test for AC Milan this weekend as they tirelessly prepare for their encounter against champions Juve. The Rossoneri are unbeaten in five games and confidence is running high. Betting on Serie A got all the more interesting - Napoli slipping down to fifth place after their most recent home defeat to Roma and Torino climbing up to fourth place. Inter's dismal form saw them slip down to 11th place after their home loss to Cagliari, a team which won four of their last five games. If Juve fail to win Saturday night, it will make the Italian league the most competitive it's been in recent history and it will make betting on Serie A all the more exciting. We'll look closer into the information you should be looking at when placing your weekend bet on Serie A.
Bet on AC Milan vs Juve
This clash has always been the 'clash of the titans' of the Italian football. Although there's no particular rivalry or bad blood, it's a huge game that more often than not ends in a dramatic way. AC Milan bagged 10 goals in their last five games and conceded only four. Milan began their season by losing two of their first three games before going on a five-game unbeaten run, a clear sign that the players are connecting well with new manager Vincenzo Montella.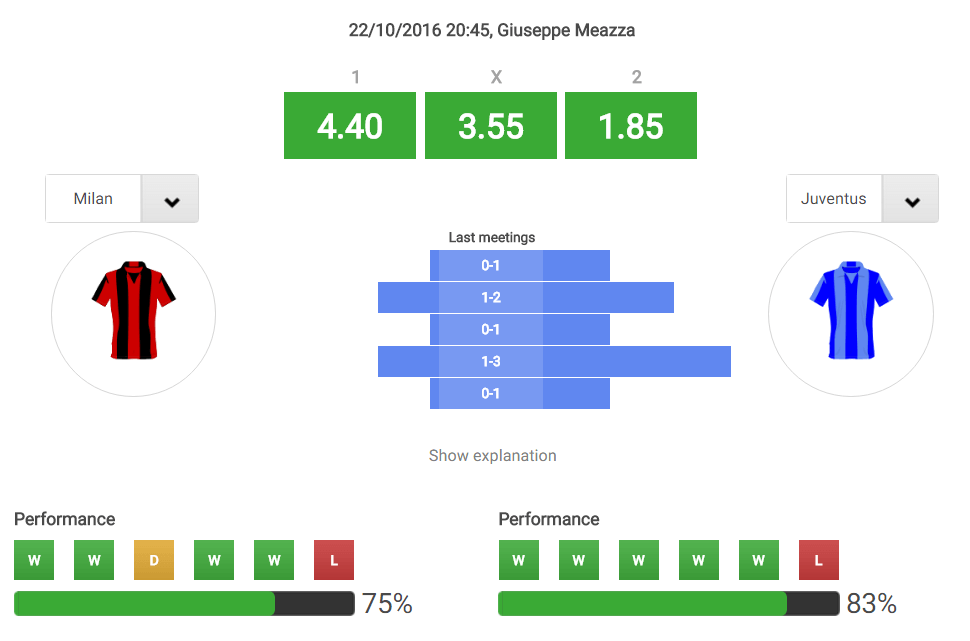 Carlos Bacca is the man to look out for, as his talent has been rewarded with six goals so far this season. Milan are the underdogs and a £10 bet on Milan to win the game will potentially return £44. Want a little security in your bet? Try double chance, and if Milan don't lose, your bet will be a winning one! Odds for double chance on Milan are priced at 24/25.
Juve are back to their old winning ways, winning seven games from eight played. No team seems to be a match for Allegri's men and if they keep up this form, it will surely be their sixth consecutive Serie A title.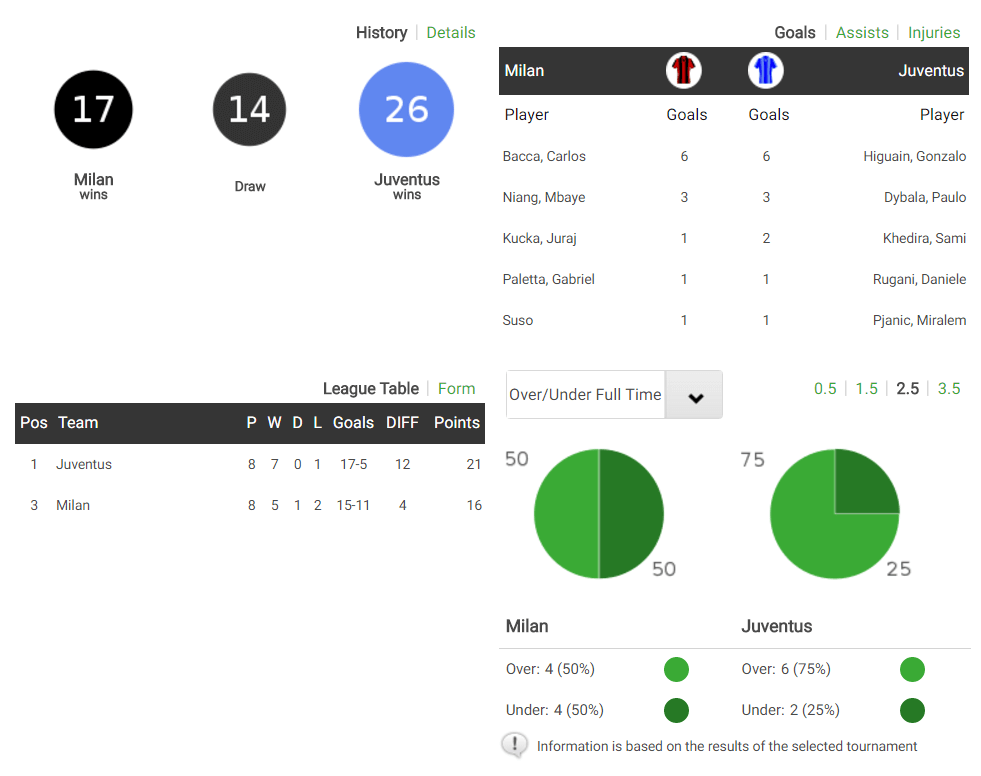 Odds for Juve to beat Milan at San Siro are at 17/20. Think it will be a dramatic encounter? Both teams to score is priced at 81/100, a pretty lucrative price considering they scored 32 goals between them. Juve are still at the top of the Italian league, five points clear of second and third placers AS Roma and AC Milan.
Bet on Torino vs Lazio
This should be a big game and both teams will be fighting for all three points. Torino are coming off three consecutive wins and are unbeaten in their last five games. They scored 9 goals in three games and confidence is high in Mihajlović's men. Torino are the favourites to win the game, with odds at 27/20. Betting on both teams to score is perfect to add to any accumulator, with odds priced at 15/19. Lazio won three of their five games but their form is inconsistent. Lazio found the net nine times in five games and odds for the game to finish over in 2.5 goals are currently at evens.
Betting on Napoli
Is this a crisis for Napoli? Well, morale is definitely low after back to back losses and a quick slide down to fifth place. If they want to keep their title hopes remotely alive, they cannot afford to lose any more points. Napoli travel to Crotone to face the newly promoted Crotone, who are sitting at the bottom of the table with relegation in plain view. Crotone will be the perfect bust-humper for Napoli, but a nothing less than three points will be acceptable for Maurizio Sarri. 6/25 are the odds for Napoli to win the game but if you're feeling a little more adventurous, try handicap betting. Odds for Napoli to win with a goal difference of two or more are currently at 16/25.