The Premier League is one of the toughest leagues to conquer but Manchester City keep marching on to make it six wins out of six. Their city rivals bounced back after two consecutive losses but are still a long way to go to reach their title ambitions. Wenger's men gave the Frenchman the perfect gift for his 20th anniversary as Arsenal manager as they humiliated Chelsea three goals to nil and a spectacular performance in front of a packed home crowd. Premier League betting fans would not have expected such a hammering but Conte's men were totally outplayed and outperformed. Betting on the Premier League has become increasingly challenging but when analysing the proper data, you'll be able to place smarter betting decisions. We'll take a closer look at what you should be analysing when placing a bet on the Premier League for the weekend.
Betting on Manchester City
With the way things are shaping up for Guardiola's men, it seems like a pretty obvious choice to bet on Manchester City to win. Convinced they will lift the trophy? An outright bet on Manchester City to win the league is still at a good price considering their early domination, as odds are currently 13/20. Sergio Aguero does not like to waste any time and upon his return, he found the net twice to make it five goals in four games.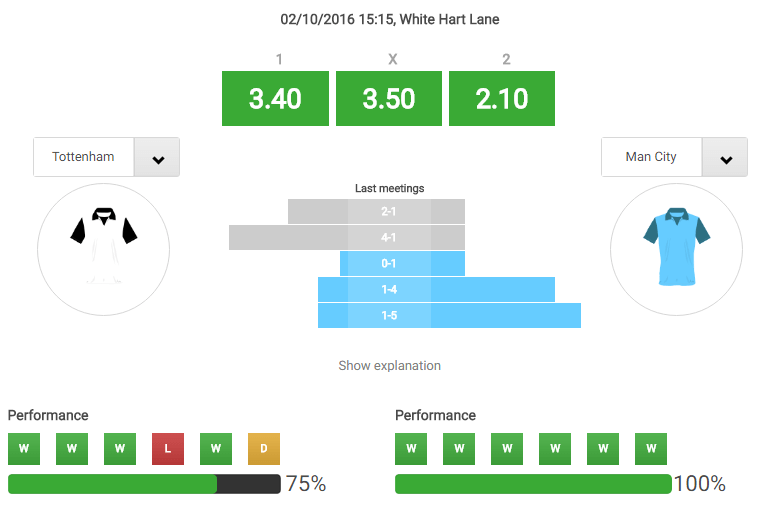 Manchester City are about to be tested yet again as they face Tottenham in their next encounter, a match that could make or break the North London side. Manchester City are the favourites as they enter White Heart Lane and a bet on them to win will return a good profit as odds are currently 23/20. Tottenham's star player Harry Kane is still missing due to an ankle injury and will miss the big clash on Sunday. Think Aguero will add another to his tally? A £10 bet on Aguero to score at any time will return £21.50.
Betting on Manchester United
The red devils have emerged from their back to back losses with a convincing win over champions Leicester City – and a sigh of relief for the 'special one'. Stoke is next on the agenda and odds for winning the match are currently at 3/10. For a better price, try handicap betting, where odds for Manchester to beat Stoke with a difference of two goals are at 69/100. Manchester United's style of play has improved drastically, focusing heavily on their attacking forces, despite having Rooney dropped from their starting squad. Mourinho's men conceded seven goals in six games and odds for both teams to score are at 6/5. It won't be easy though, as Stoke are still without a win and only managed to find the net four times in six games.
Betting on Arsenal
Arsenal have picked up the pace and are looking to secure their fifth consecutive win in their next encounter against Burnley. The gunners scored some fantastic goals in their previous game against Chelsea and demonstrated how to be effective in tight spaces excellently. Arsenal scored 15 goals in six games and odds for both teams to score are at 51/50, a pretty good price considering the gunners conceded four in six Premier League matches. You think Arsenal will keep up their goals galore? Handicap betting odds are at a great price, as winning with a goal advantage of two will yield a potential profit of £19.40 from a £10 bet.