Betting on the Premier League took a wicked twist this weekend after some of the top teams of the league had to settle for a draw. Manchester City's draw against Everton was another stumble after losing to Tottenham before the International break, a slip Arsenal wasted no time capitalizing on. The gunner's 3-2 over Swansea saw them share the spotlight with equal points as first placed Manchester City while their city rivals Manchester United slipped down to seventh place after their goalless draw against Liverpool. Chelsea betting fans are seeing some light with back to back wins and three points away from the top of the table. Tottenham had a golden opportunity to climb to first place but failed to pick up three points against West Brom. We'll explore the information you should be looking at when placing your next bet on the Premier League for the weekend.
Bet on Chelsea vs Manchester United
There are two points separating these sides, both with new managers, both with very ambitious agendas. Antonio Conte's men are in full confidence after their back to back wins and are the favourites to win as they step inside Stamford Bridge. Odds for Chelsea to win the game are at 28/25 and their star forward Costa is still in red hot form. He bagged seven goals in eight games played and is currently the top scorer of the Premier League. Odds for Diego Costa to score at any time are currently at 37/25.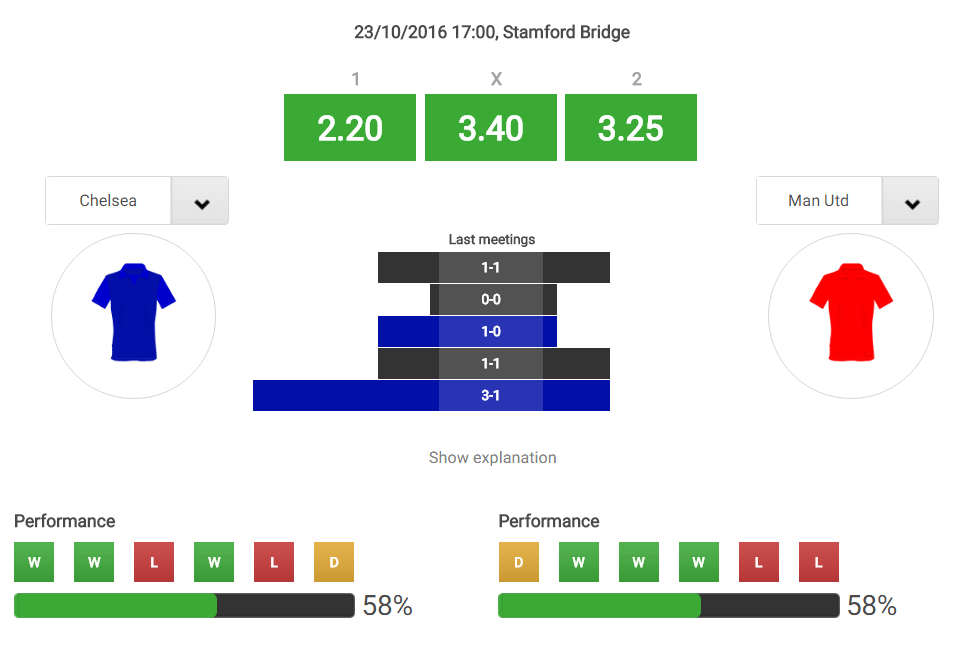 Manchester United on the other hand are coming off back to back draws and only managed to win one game from their last five. The red devils found the net just seven times in a five game stretch but conceded seven too. Their last five games saw three finish in over 2.5 goals but their most recent two finished under 2.5 goals. Are the Manchester United strikers having a hard time finding the net? Odds for the ex PSG frontman to score at any time are at 9/4 and Rashford has an even better price at 3/1.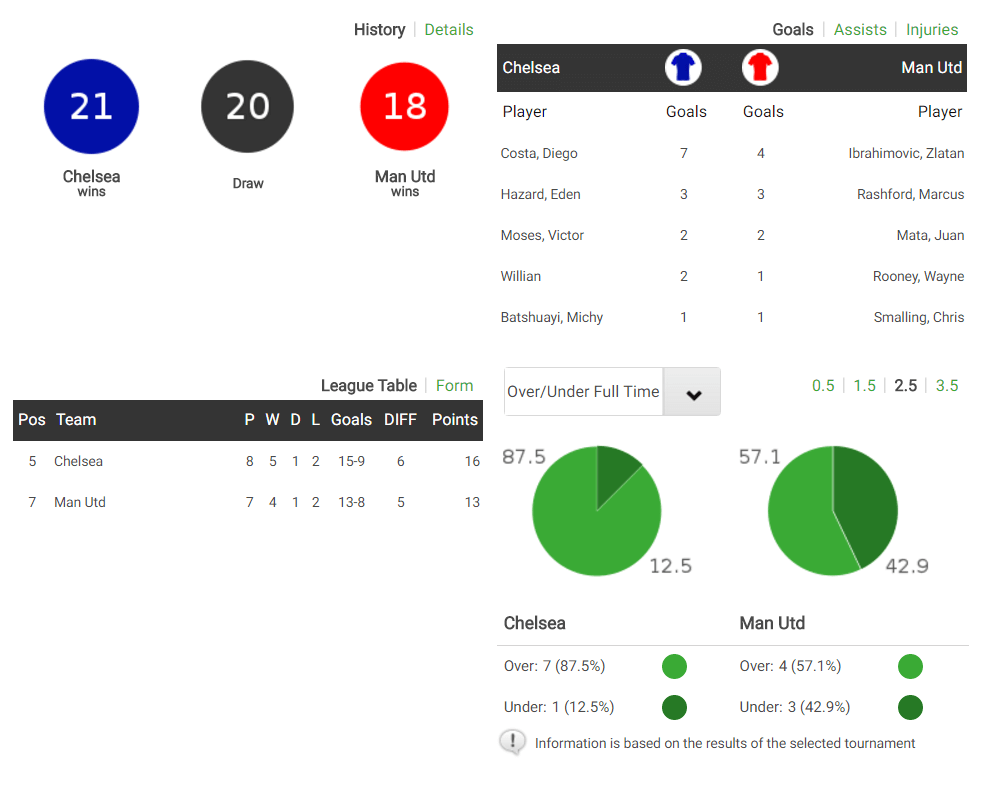 Betting on goals is a perfect option for the neutral and betting on both teams to score is an interesting option, considering that Manchester United had four of their last five games with both teams scoring. Odds for both teams to score are at 15/19.
Bet on Arsenal
Betting on Arsenal is looking more promising than ever before. They won all of their last five games including a three nil hammering over their London rivals Chelsea. The gunners are the highest scoring team of the Premier League alongside Manchester City and also equal in points. Scoring 13 goals in their last five games, it's clear that Arsenal have no trouble finding the net and now host Middlesbrough in their next encounter, a newly promoted team that's struggling to find its form in the Premier League. Betting on Arsenal to win the game will not result in a major profit but is a perfect additional to your accumulator. Odds for Arsenal to win are at 1/4 and if you think the game will finish with more three goals or more, betting on over 2.5 goals will potentially return £16.40 from a tenner. Four of their last five games finished that way.
Bet on Manchester City
They could have been running away with the league at such an early stage of the championship, but their last two stumbles let Arsenal catch up in points and Tottenham and Liverpool both a win away in overtaking them. Manchester City host Southampton next, a match they need to win to maintain control of first place. Betting on the Premier League is far more interesting with this wicked turn of events and the colossal Champions League clash against Barcelona will surely have an effect the players psyche and fitness levels for their next Premier League game. 12/25 are the odds for Manchester City to win their next game and the price for the game to finish in over 2.5 goals is very similar, at 16/25. Three of their last five games finished in over 2.5 goals.