Chelsea are on a roll! With their win over Tottenham, their city rivals, they made it five wins in a row, climbing to first place in the process. The top four teams all emerged victorious over the weekend, which makes betting on the Premier League all the more dramatic. Tottenham managed to clinch just one win in their last five and as a result, there's a four point gap to reach fourth place. Manchester City have not been too convincing lately, as their back to back wins were both very narrow won, one of which they had to come from behind. Moving on to the red side of Manchester - Are Manchester United and Mourinho going through a crisis? With one win from their last five and lightyears away from a guaranteed Champions League spot, it's definitely a cause for concern and a desperate need for a course correction. We'll delve a little deeper at the betting information you should be looking at to help you craft your ideal bet on the Premier League for the weekend.
Bet on Manchester City vs Chelsea
This is a huge test for both teams. These two sides are only a point away from each other, favouring Chelsea. It's a fight for top of the table and this clash will prove who wants it more. City are the favourites to bag all three points with odds at 11/10 and although Chelsea are the underdogs, they are the team with the best balance in the Premier League.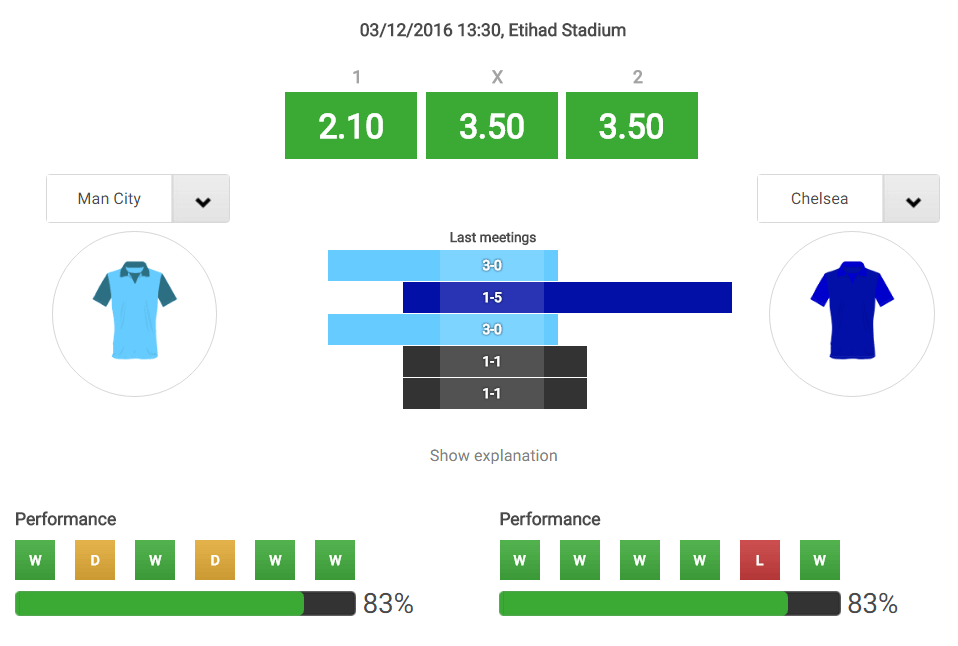 Chelsea, alongside Tottenham, are the team who conceded the least goals in the Premier League and the second team who scored the most goals, behind Manchester City. Over 2.5 goals is not a bad bet, especially with the amount of goals these two sides score, and odds are priced at 3/4, a good price to add to any accumulator. Chelsea secured their seventh consecutive win and up until last weekend, they were boasting of six clean sheets. Conte's men only conceded one goal in seven games! That's a statistic no manager in the Premier League was able to match.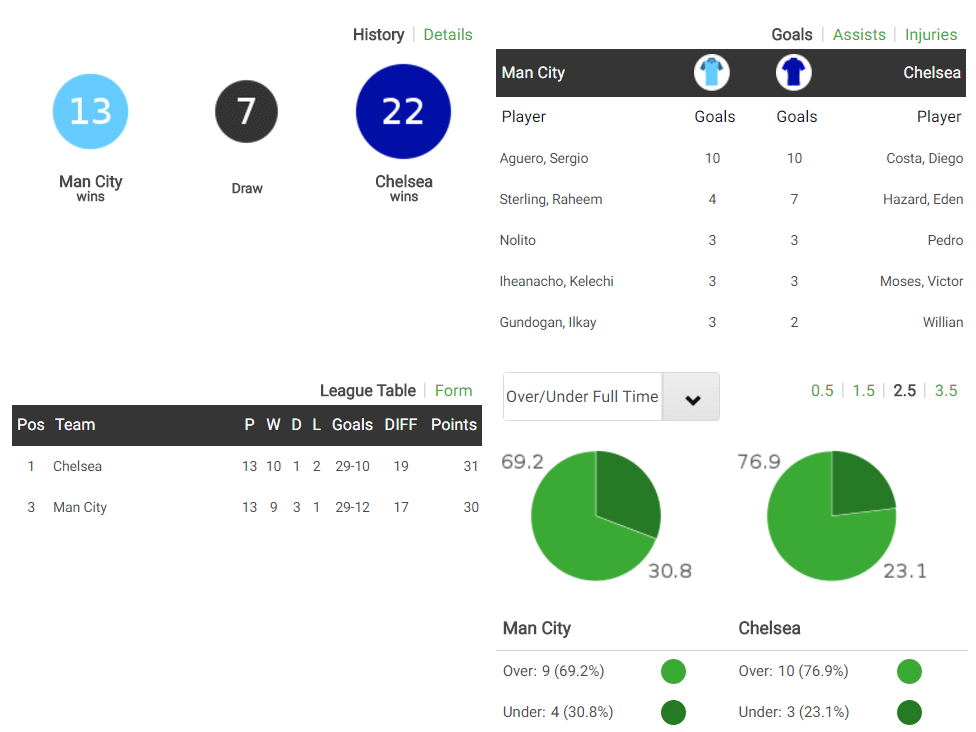 However, Manchester City are very capable of scoring goals, with individual players like Aguero who are able to create a goal from a half chance. Betting on goals is the perfect option for the neutral, as betting on both teams to score is priced at 16/25.
Bet on Liverpool
Liverpool stopped Sunderland from making any more progress at the bottom of the table as they have their own agenda to fulfil. They are now unbeaten in their last 11 games and are in great form as they prepare to face Bournemouth away from home. Klopp's men are the clear favourites to win the game, with odds standing at 33/50. From their last five away games, Liverpool won three of them and all victories ended in over 2.5 goals. Odds for that repeating itself at the Vitality stadium are priced at 13/20. Bournemouth haven't had the best of luck against the Merseyside squad, losing all their last five encounters. Three out of Bournemouth's four wins all came in front of their own fans but they will need to dig very deep to snatch all three points away from Klopp's men. Looking for a more adventurous bet? Try handicap betting on Liverpool, as odds for them to beat Bournemouth with a goal difference of two or more are currently at 5/3. Liverpool are a high scoring team and betting on goals is always a good option to consider, especially since they scored 14 goals in their last five games. There's no wonder striker that's scoring all the goals at Liverpool, which is an indication of the team performing as a unit, which is an essential element to win games and challenge for the title.
Bet on Arsenal
The gunners broke the shackles after overcoming Bournemouth last weekend and bagged three vital points in the process. Had they finished draw again, it would have been four draws from their last five and the crisis would have continued. West Ham are next on the agenda, a team that's drifting way too close to the relegation zone with just one win from their last five. Arsenal have pretty decent odds for beating the hammers, with odds priced at 18/25, worth adding to any multiples bet. The gunners have only lost one game this season and their form on the road is impressive, having won four from their six games. Consider handicap betting on Arsenal, as odds are incredibly lucrative at 37/20, especially when considering that three of their four away wins finished with a difference of two or more goals. Both teams to score is also not a bad option to evaluate, as four from their six games on the road saw both teams score.