It was all smiles for the top four as they all secured a win and three very important points. Manchester City broke out of their winless streak in style as they cruised past West Brom in a four nil away win. Mourinho's Manchester on the other hand are without a win in four games and that's a serious cause for concern. Arsenal put four past Sunderland to maintain the pressure on City and the gunners are now unbeaten in their last five games. Liverpool are showing great character under Jurgen Klopp and they too are unbeaten in the last five games. Tottenham are going through a dry spell as they drew their last three consecutive games and as a result, the Spurs have slipped down to fifth place. Betting on the Premier League has never been more exciting than this season, especially since only three points separate the first five places in the table. We'll delve a little deeper to discover what information you should be looking at when placing a bet on the Premier League for the weekend.
Bet on Arsenal vs Tottenham
Arsenal, as explained above, are unbeaten in their last five games and their after their miraculous comeback against Lodogorets in the Champions League, morale and confidence would be sky high as they prepare for their North London derby. Three from Arsenal's last five games finished in over 2.5 goals and odds for the London derby to finish with three or more goals are currently at 18/25. The last five encounters between these two sides resulted in three draws and a win for each side. Arsenal are the favourites to emerge victorious with odds priced at 21/20 while Tottenham have odds that will result in a healthy profit if they had to win, as they currently are at 27/10.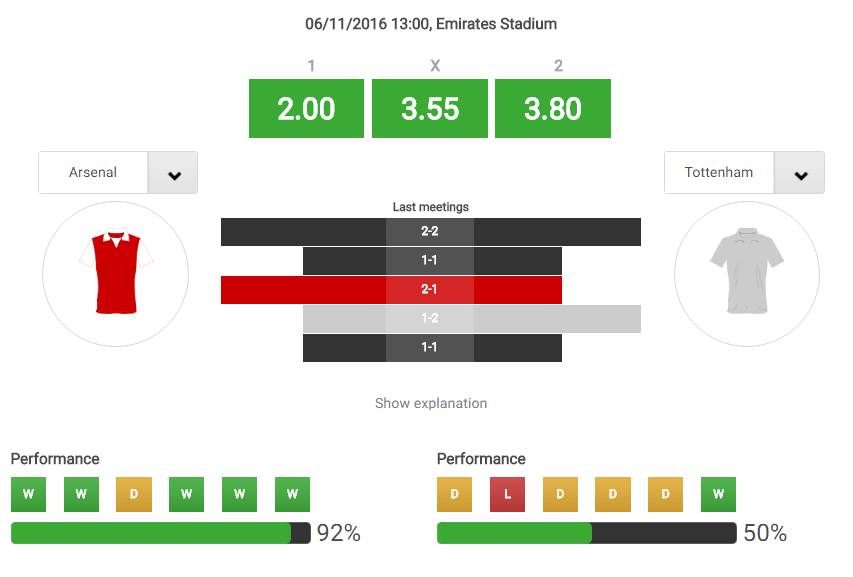 From their last five games, Tottenham had four games finishing in under 2.5 goals, which can be a cause for concern. Under 2.5 odds are at 57/50, which is a great price considering that Spurs scored six goals in their last five games. Looking for a neutral bet? Betting on both teams to score is an interesting bet with odds priced at 10/17, a good option to add to your accumulator.
Bet on Manchester City
Manchester City will be heading to Middlesbrough with their confidence through the roof as they beat Barcelona 3-1 and displayed a stellar performance in their Champions League encounter last Tuesday. Middlesbrough are next on City's agenda and they will need to collect all three points to maintain first spot of the table. As expected, City are the huge favourites and odds for winning the game are priced at 6/25 but if you're looking for a better price, try handicap betting as odds will be improved greatly. Odds for City to win the game with a three goal advantage (or more) are currently at 11/8. Newly promoted Middlesbrough have been struggling to find their form in the Premier League, a team which only secured their second win of the campaign last weekend. Looking to bet on goals? Odds for over 3.5 goals are priced at 13/10 but if you're looking to bet on the goal scorer, look no further than City's Aguero. He found the net seven times in eight games played and odds for him to score at any time are at 4/7.
Bet on Liverpool
Liverpool are continuously exerting pressure on Guardiola's men as the Merseyside team are not showing any signs of backing down. They are unbeaten in the last five games and have only lost one game this season. Liverpool host Watford this weekend and nothing short of three points will satisfy Jürgen Klopp and his men. Liverpool are the clear favourites to win the game and odds are set at 2/7. Not a great price but betting on goals could have a higher potential return. Odds for both teams to score are set at 28/25 and over 3.5 goals is currently at 7/5. Liverpool bagged 13 goals in the last five games and conceded only five and are unbeaten at home this season, winning three of their four home games.