Up until a few weeks ago, everyone would have thought that no team can compare to Manchester City with their flawless record but now the tables have turned and it made betting on the Premier League all the more interesting. There's just a single point which separates first from fifth place and every match day is definitely going to see a re-shuffle of the top five places. Manchester City are without a win in three league games and fortunately for Guardiola's men, Arsenal couldn't capitalize on their shortcomings. Chelsea ridiculed Manchester United and their ex-manager Mourinho in their four nil victory and saw them climb up to fourth place. Arsenal couldn't find a goal against newly promoted Middlesbrough and their North London rivals had the same problem. We'll take a closer look at the statistics you should be looking at when crafting your ideal bet on the Premier League.
Bet on Manchester City
Pep Guardiola broke one of his personal records against Southampton last weekend, one he won't be too proud of. The ex-Bayern and Barcelona manager had never gone without a win in five games but the Saints took that away from him. Manchester City betting fans would consider this phase a crisis but there's no doubt that they'll return to their winning ways sooner rather than later. City face West Brom next in a match where they're the clear favourites with odds at 11/25. Their most recent three matches all ended in under 2.5 goals and odds for that repeating itself against West Brom are currently at 16/15. You think this will be the turning point for City? Try handicap betting where odds for beating West Brom with a goal difference of two are currently at 57/50, a very good price to add to your accumulator.
Bet on Arsenal
Arsenal could have been first of the table and with five consecutive wins if it wasn't for their stumble against Middlesbrough over the weekend. They scored 11 goals in five games and are second place because of a single goal in goal difference. The gunners face bottom placed Sunderland in their next encounter, a match they can't afford to drop points in. Sunderland are still without a win this season and facing Arsenal isn't looking too promising to secure a victory. Arsenal are the clear favourites with odds priced at 3/8 for them to win the game, however, if you're looking for a more profitable bet, handicap betting could be a good pick. Odds for Arsenal to beat Sunderland with a goal difference of two or more are currently at 49/50. There's no particular player who's dominating the scoresheet but from Arsenal's 19 goals scored, Sanchez and Walcott scored nine of them.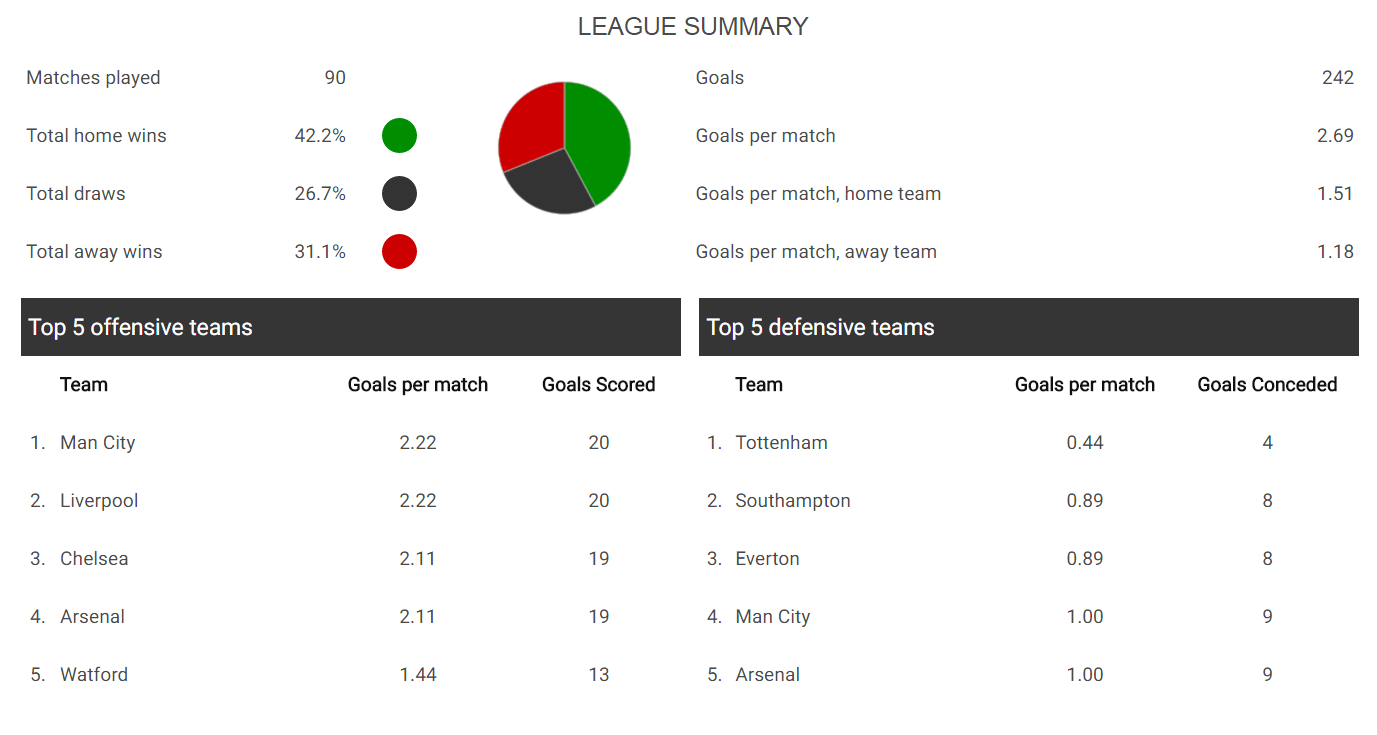 Bet on Tottenham
Tottenham picked up just two points from their last two games but are unbeaten in their last five. Their last two games against Bournemouth and West Brom should have been clear wins on paper but that's the beauty of betting on the Premier League, any team can defy the odds, as did Leicester City last season. From their last five games, four games finished in under 2.5 goals and odds for that happening again in their next clash against champions Leicester City are priced at 16/15. Tottenham are the clear favourites to beat the Foxes with odds at 3/5. It's also important to factor in Tottenham's solid defence, as they conceded the least from all the Premier League teams. Only four goals conceded is a great achievement in nine games played and this statistic should be an indication to avoid betting on both teams to score, especially since they only conceded one goal at White Hart Lane.