Seems like the break worked wonders for the top seven teams of the table, as they all kicked off the New Year with a win. Juve cruised past Bologna and are now in the driving seat, with a four point gap and a game in hand. Roma needed help by Genoa's defender Izzo to find the net, and the 24 year old's own goal was enough to hand over three points. It was looking like a frustrating night for the Rossoneri, creating chance after chance but failing convert. Carlos Bacca found the net in the 87th minute, which was enough to seal the deal. It was a great week to bet on Serie A, but will this week be any different? We'll take a closer look at the big upcoming matches and the data you should be looking at when crafting your ideal bet on Serie A for the weekend.
Betting on Fiorentina vs Juve
Juve started the New Year with an easy win over Bologna, a match that no punter expected otherwise. Juve travel to Florence to face La Viola, a team which is struggling to return to their winning ways, winning only two from their most recent five. As expected, Juve are the favourites, with odds priced at 41/50 to win the game. Higuain has been in red hot form and added another two to his tally in Juve's last encounter, making it 12 goals from 18 games played. The quality of the Argentinian striker is unparalleled, capable of changing the score line with a half chance, a danger Paulo Sousa is well aware of and preparing to combat.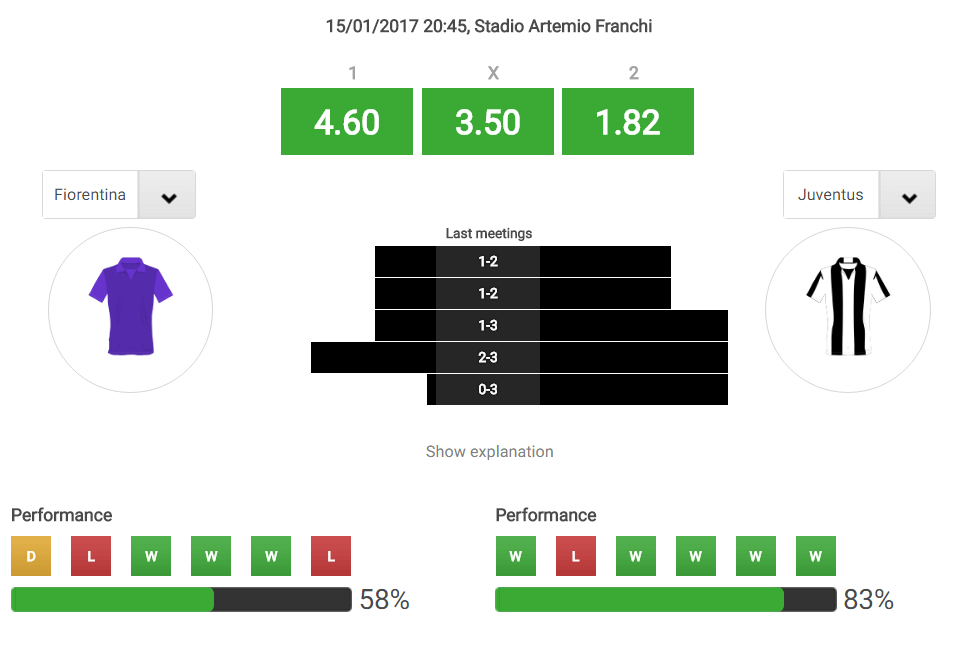 Fiorentina's last win was over a month ago, and failing to win against Juve will not only send La Viola into crisis mode, but will also have Sousa fearing for his job. 18/5 are the odds for Fiorentina to beat Juve and double chance betting on Fiorentina will potentially return £19.80 from a £10 bet, a bet worth considering with such high odds. Unsure of which team to put your money on? Betting on goals is also an interesting option. Odds for both teams to score are set at 43/50 and over 2.5 goals are at evens. Four of Juve's five most recent games finished in over 2.5 goals and so did Fiorentinas'.
Betting on Roma
Roma will need to put in better performances than the one against Genoa if they want Juve to avoid running away with the league half way through the season. Their win over Genoa came through an own goal but nonetheless, that completed back to back wins and another step in the right direction. Roma are on the road again and it's Udinese next on the agenda. Roma don't have the best record away form home, winning two from their last five. Udinese's form at home needs improvement, winning two from their last five. Three of Udinese's last five matches finished in under 2.5 goals, conceding just three goals, which is an incredible statistic. But how will they fair against a Roma side who enjoy playing offensive football? Roma found the net 40 times in 19 games played but four of their last five games ended in under 2.5 goals and odds for that repeating itself against Udinese are priced at evens. Roma need to be more clinical in front of goal to remain competitive as they only scored seven from their last five.
Bet on Napoli
Napoli were off to a shaky start in their last encounter against Sampdoria, having come from behind to find the winner in the dying minutes of injury time. They maintain the third position in the league table, seven points away from league leader Juve. Maurizio Sarri's men have no trouble finding the net, having scored 17 goals in their last five, with all of them finishing in over 2.5 goals. As a result, odds for over 2.5 goals are not the most profitable, as they stand at 33/100. For a more lucrative option, consider handicap betting on Napoli, as a £10 bet will potentially return £19.50, should they win with a difference of three goals or more. Betting on one team to score is priced well too, having odds of 41/50.