Juve suffered their third loss of the season against Genoa over the weekend and with that loss, Serie A betting got all the more interesting. There are now just four points separating Juve from second placed Roma and Milan and one more stumble will be a real cause for concern for the Bianoneri's title hopes. Both Milan and Roma maintained the pressure with their wins while Napoli slipped down to seventh place, even though they beat Udinese away from home. Atalanta are flying high, having won their sixth consecutive win and are now sitting in fifth place with Lazio, a point away from second place. Lazio are now unbeaten in seven games and they are in the perfect form for next weeks' pivotal encounter against their city rivals and arch enemies Roma. We'll take a closer look at what betting information you should be analysing when placing a bet on Serie A for the weekend.
Bet on Lazio vs Roma
This derby has to be one of the most intense and competitive derbies in Europe. This football feud has been around since the dawn of both clubs and this year, it means all the much more as only a single point separates these two sides.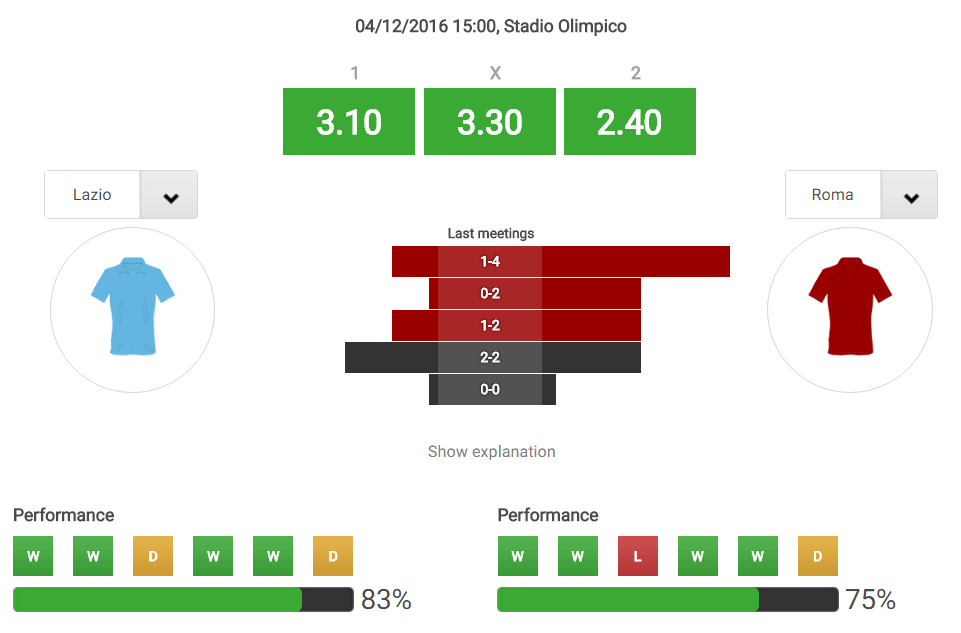 Lazio, the home side, are the underdogs in the clash, and odds for beating Roma are priced at 21/10. Since odds are pretty lucrative on Lazio, double chance betting would be a good option too, as it adds security to the bet. A £10 bet on Lazio to draw or win the game will potentially return £15.80. Roma are the highest scoring team of Serie A, with 33 goals scored in 14 games. 7/10 are the odds for the game to finish in over 2.5 goals and 11/20 for both teams to score. Last season, Roma got the best of Lazio on both occasions, home and away and the Biancocelesti haven't beaten their city rivals in a Serie A match in four years.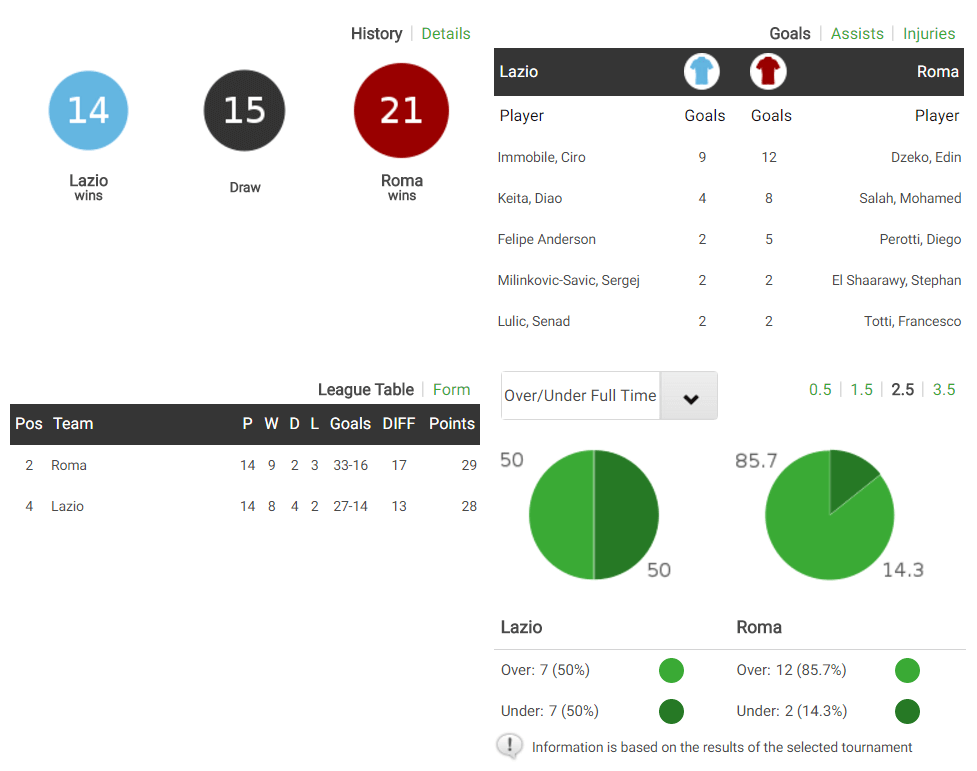 But this clash would be different, as Lazio are unbeaten in seven games and will be looking for all three points to keep within the European zone of the table. Roma have good odds to win the game too, as they stand at 7/5.
Bet on Juve vs Atalanta
Juve were humiliated against Genoa over the weekend and were losing three to the good in the first half. Some terrible defending was the cause of the goals conceded but the Bianconeri were left stunned and had no idea how to get back in the game. As expected, Juve are the favourites to beat Atalanta, a team with flawless victories in their last five games. 21/50 are the odds for Juve to win the game but don't let the odds fool you. It's going to be one tough game for Allegri's men, as the Bergamo side will be looking to stretch their unbeaten run to 10 games. Can Atalanta defy the odds and break Juve? Odds for Atalanta to win the game are at a whopping 7/1 but if you're looking for a little safety to your bet, try double chance on Atalanta, as a tenner will potentially return £29. Juve's last five game all ended in with three or more goals and odds for the game finishing in over 2.5 goals are at 4/5. Allegri cannot afford another stumble, as now, both Roma and Milan narrowed the gap to four points and another loss would really jeopardise their chances of clinching yet another Serie A title.
Bet on Napoli vs Inter
Inter moved up to eighth place with their most recent win over Fiorentina, a match they needed to win to avoid slipping further down the table. Napoli couldn't hold on to their lead and conceded an agonizing goal eight minutes from time, halting their desperate need for maximum points.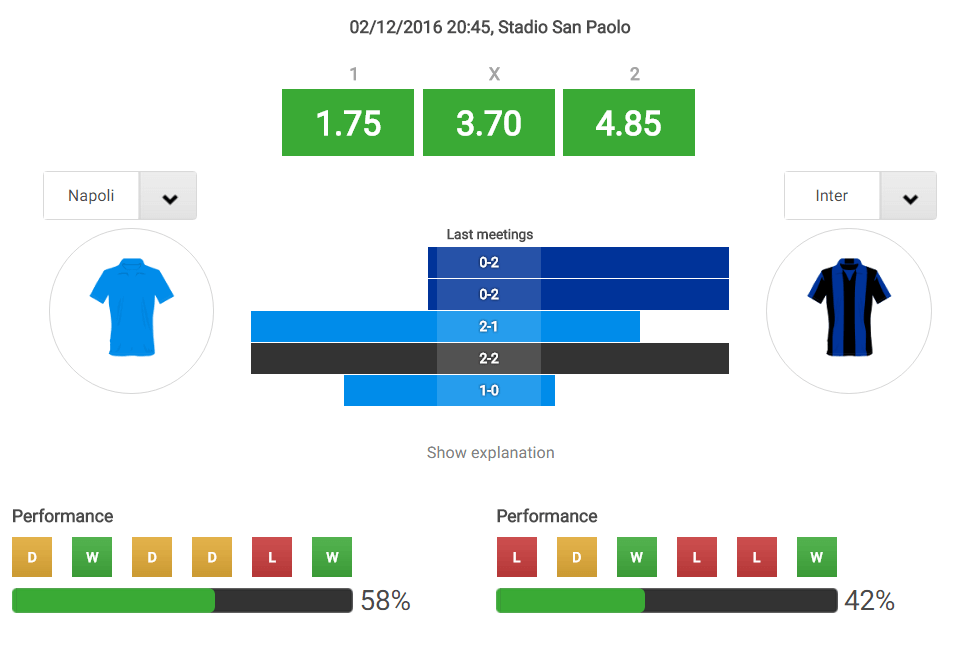 It's going to take a special performance to beat Napoli in front of their own fans and from their seven home games this season, Napoli won four, lost one against Roma and drew against Lazio and Sassuolo. As expected, Napoli are the favourites to snatch all three points with odds priced at 17/20, however, Inter are improving under their new manager Stefano Pioli, and a cheeky £10 on Inter to win will potentially return £43.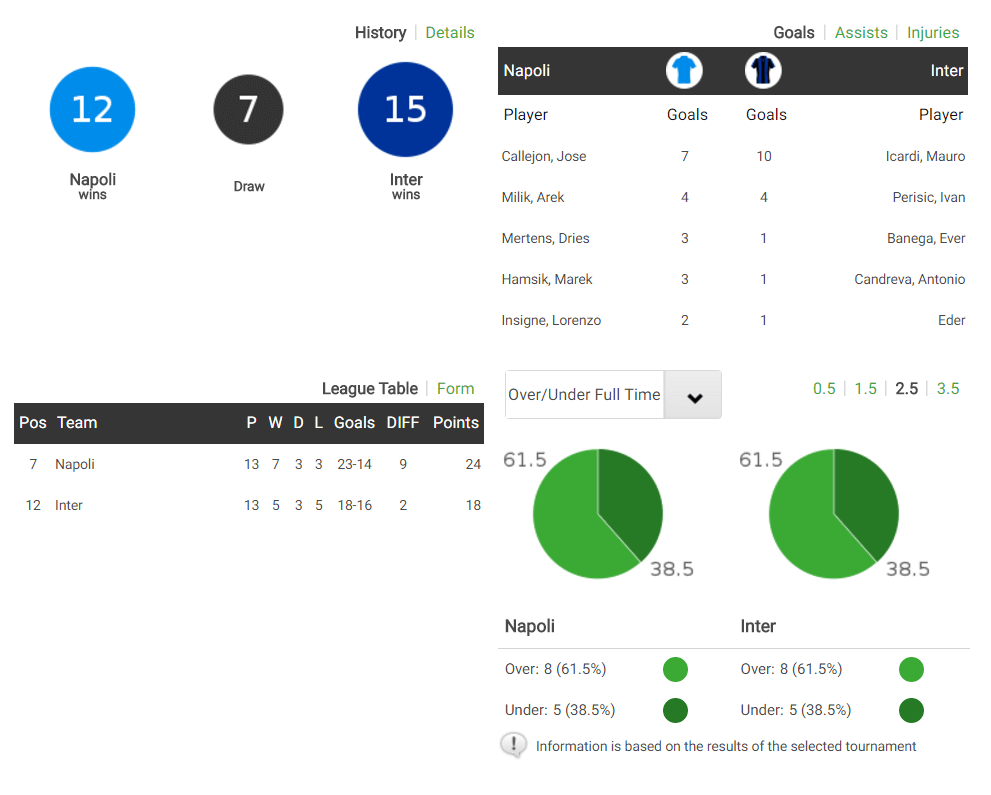 Betting on over 2.5 goals is a good option, considering that four out of five of Inter's game ended in that manner – with odds of 69/100 of that happening against Napoli on Friday. There was nothing between these two sides last season, when comparing them head to head, as both teams won their games in front of their own fans.