Betting on Spanish football took a wicked twist with the two giants failing to find their form and consistency. Frustration must have reached the tipping point for Zidane and his men with three draws consecutive draws. Barcelona only secured two wins from their last five games and Atletico wasted no time capitalizing on their downfall, winning four of their last five games and rising to first place along their city rivals. Betting on La Liga needs additional research due to the last upsets by the usual title contenders. We'll take a closer look at what you should consider when crafting your ideal bet on the Spanish league.
Bet on Barcelona
What a sad day for Barcelona betting fans but all credit goes to Celta de Vido for an excellent performance against the Catalonia giants. With that win, Celta secured three consecutive wins but Barcelona missed out on climbing to first place of the table. They face Deportivo De La Coruña next and nothing but a win will be acceptable if they want their title hopes to stay alive. Betting on Barcelona will potentially return £1 profit from a tenner and handicap betting might be more appropriate if looking to make a decent profit out of the game. Odds for Barcelona to win with a difference of three goals are currently at 41/50. Three of their four wins this season ended with a goal difference of three or more, which will give Barcelona betting fans more confidence in placing this handicap bet.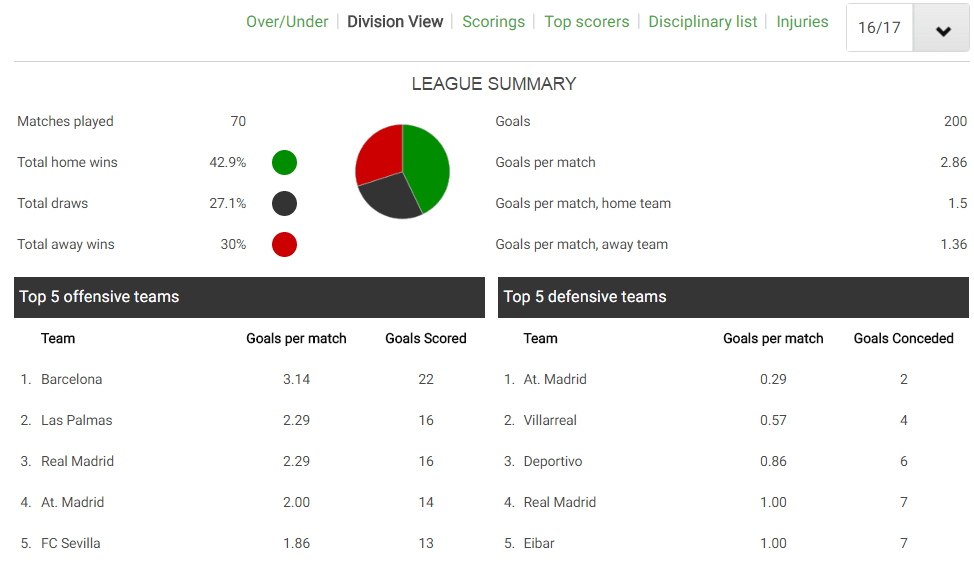 Bet on Atletico Madrid
Atletico Madrid are unbeaten so far this season and have four out of their last five games, quickly climbing to the top of the table. Diego Simeone's men face Granada next, a team that's struggling to find its form at the bottom of the table. This is a great opportunity to bag three points and maintain first place of La Liga. They had an impressive scoring record in their last five games, having scored 13 goals and conceded only one goal in their draw against Barcelona. Betting on both teams to score will make sense if you choose 'No' against Granada, as you'll be implying that only one team can find the net to make the bet a successful one, or a goalless draw. Odds for that happening are at 39/100. The French forward Antoine Griezmann is in red hot form and top scorer of the Spanish league, scoring six goals in six games played. Think Simeone's men will continue with their high goal scoring streak? Odds for Atletico to win with a goal difference of three goals or more are at 28/25.
Bet on Madrid
Madrid are unbeaten this season but are currently in a state of plateau after being denied a win three consecutive times. It's crisis mode in Zidane's dressing room as Madrid are without a win in four games in all competitions. Real Betis are next on the agenda, a team which is hovering over the relegation zone with two wins, two draws and three losses. Madrid are in desperate need of a win and the price for bagging three points is at 9/25. A point worth noting is that Madrid had a little trouble scoring in their last few games, having three of their last five games finishing in under 2.5 goals. Odds for two goals or less to be scored in the game are currently at 19/10. Ronaldo and co. can't afford another stumble as their city rivals Atletico Madrid are in great form and are facing bottom placed Granada, a game they'll be adamant on winning.