Ronaldo and Co. were held twice in a row and bagged a measly two points from a maximum of six in their last two games. While still occupying first place of the league table, Zinedine Zidane's men could have been five points clear of Barcelona, had they kept up their winning streak. The Catalonia giants bounced back in style after humiliating Sporting Gijon in front of their own fans, which finished five to the good. Atletico Madrid and Villarreal are both two pints away from the 11 Champions of Europe and La Liga betting fans would enjoy the competitiveness and quality this league has to offer. No colossal clashes are marked for this week, which is a perfect opportunity for the big teams to bag three points before the international break. We'll take a closer look at the information you should be looking at before crafting your ideal bet on La Liga.
Betting on Barcelona
Barcelona found the net 19 times this season and to no surprise. The attacking trio have no mercy and will keep inflicting damage to the opponents back four up until the final whistle. Betting on goal scorers would definitely be a bet worth placing, considering the fact that Messi, Suarez and Neymar scored 12 goals between them.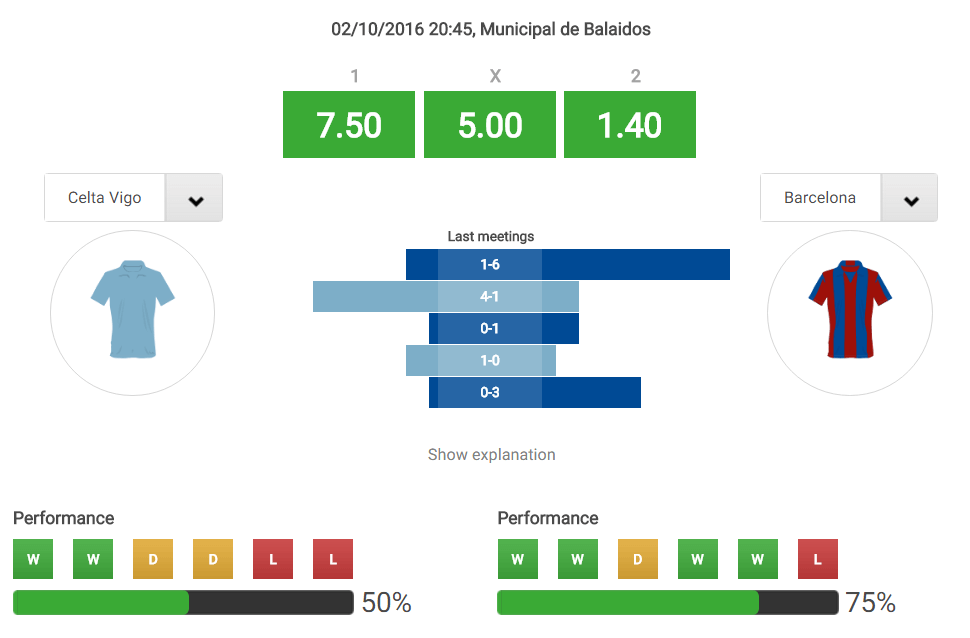 Celta de Vigo is next on Barcelona's agenda and odds for the giants to win the game are currently at 2/5 but if you're looking for a more adventurous bet, try handicap betting. Odds for Barcelona to win the game with a goal difference of two or more are at 16/15, a pretty good price considering they scored 11 goals in their last three league games. Barcelona don't have the best record against Celta de Vigo, winning three games and losing two in their last five meetings. Betting on Neymar to score at any time has odds of 22/25 and Suarez is at 17/24.
Betting on Madrid
Madrid are without a win in three games in all competitions and La Liga betting fans consider this as a crisis. Eibar is who they face next but a bet on Madrid to win will not yield a high profit and will need to look for a more lucrative bet to make a decent return. In their last five meetings, Eibar lost all the encounters and did not manage to find the net once. Forget betting on both teams to score but instead, take a look at handicap betting, as the stage is set for goals galore at the Bernabeu. Odds for Zidane's men to win with a difference of three goals are currently at 8/11. Three of their four games won saw Madrid start winning in the first half and betting on Madrid to win in the first half has odds at 39/100. Ronaldo is still looking to catch up with his scoring competitors from Barcelona, but odds for Ronaldo to score at any time are at 39/100.
Bet on Valencia vs Atletico Madrid
Valencia had a horrible start to their season, losing their first four games and sat at the bottom of the table. Some changes were made to the squad and they managed back to back wins to get them out of the relegation zone. From their six opening matches, five games finished in over 2.5 goals and odds for three goals of more happening in their game against Atletico Madrid are at 11/10. Atletico Madrid won three of their last five meetings, losing one and drawing another. Betting on under 2.5 goals would be worth looking into, considering Atletico Madrid had four games finishing with two goals or less. Valencia scored in all their matches except for their one nil defeat to Eibar, so betting on both teams to score will also be a good bet, especially since odds for that happening are at 23/25.