With their narrow win over Sporting Gijon, Madrid have widened the gap between them and Barcelona and now have a six point cushion as they prepare to face the Catalan giants in another fight for supremacy. Barcelona's back to back draws are a cause for concern for Luis Enrique, especially since Madrid aren't dropping any points, leaving their 25th title hopes at bay. Sevilla are on par with Barcelona on points, and their next clash against Granada, who are at the bottom of the table without a win this season, will exert even more pressure on the Catalan giants, as anything less than a win for Barcelona will see them slide down to third place. Atletico Madrid lost three games this season, and all three came in their last five games. With a nine point deficit to their city rivals in first place, Diego Simeones' men will need to improve their form if they want a guaranteed spot in the Champion League next season. We'll take a closer look at what betting related information you should be analysing to help you craft your ideal bet on La Liga for the weekend.
Bet on Barcelona vs Madrid – El Classico
Without a shadow of a doubt, El Classico is the biggest football clash the world can witness. With preying eyes all over the world, all eyes will be on Barcelona to discover whether they have what it takes to be the first team to beat Madrid this season, shortening the gap in points and edging a little closer. Barcelona are the favourites to win with odds priced at 17/20, although Madrid have an excellent form on the road, winning five of their six games. Madrid have incredible odds to win, as they stand at 14/5 but a safer option would be to betting on double chance on Madrid, as the bets adds security and odds are almost evens, at 49/50. Betting on goals is something consider since both team have a tendency to play the offensive game, especially considering the fact that the Classico hasn't finished in a goalless draw in La Liga in 14 years.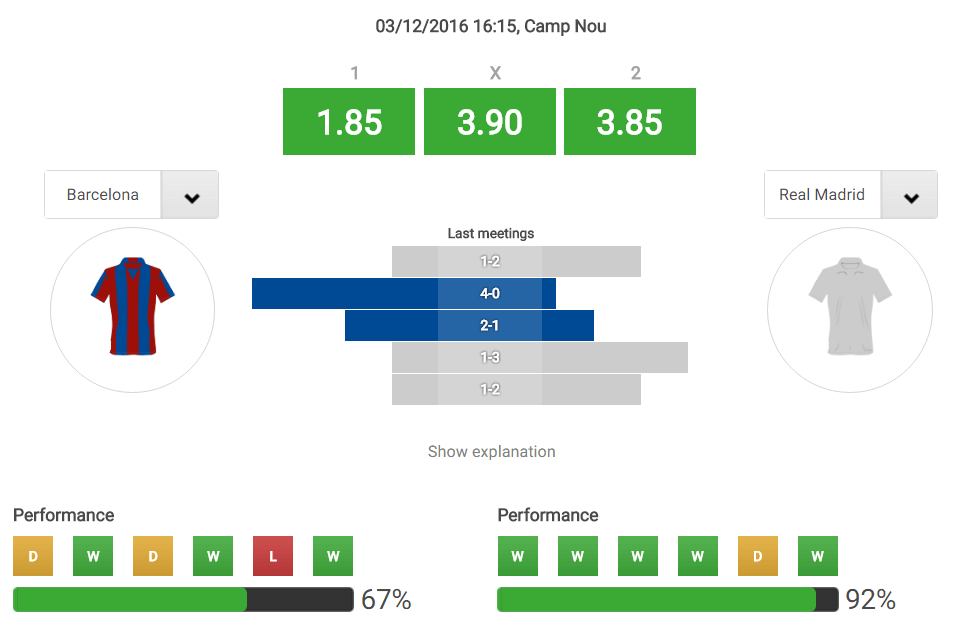 Catalan coach Luis Enrique stressed on the importance of the match next weekend, stating that the fixture against Madrid is a crucial must-win game for them if they plan to stay in contention for the La Liga crown before the teams go into the winter break. Zinedine Zidane's men remain unbeaten in the league, winning ten and drawing three – a statistic Zidane would be adamant on keeping before the winter break.
Messi had a perfect start to the season which was kicked off by brilliant performances for Argentina in the WC qualifiers while the Portuguese skipper started the season slow, picking up the pace and finding his form by scoring five goals in his last two league games. Odds for Messi to score at any time are priced at 19/20 while the Ronaldo's odds are set at 37/25.
Los Blancos have been incredibly unlucky with injuries and their key players are the most affected, as a number of starters are out for a long period. Welsh winger Gareth Bale suffered a heavy dislocation of the perineal tendons in the European clash against Sporting Lisbon last week, which ruled him out for a period of at least four months. Toni Kroos will also miss the clash due to a broken metatarsal he suffered against Leganes, a few weeks ago.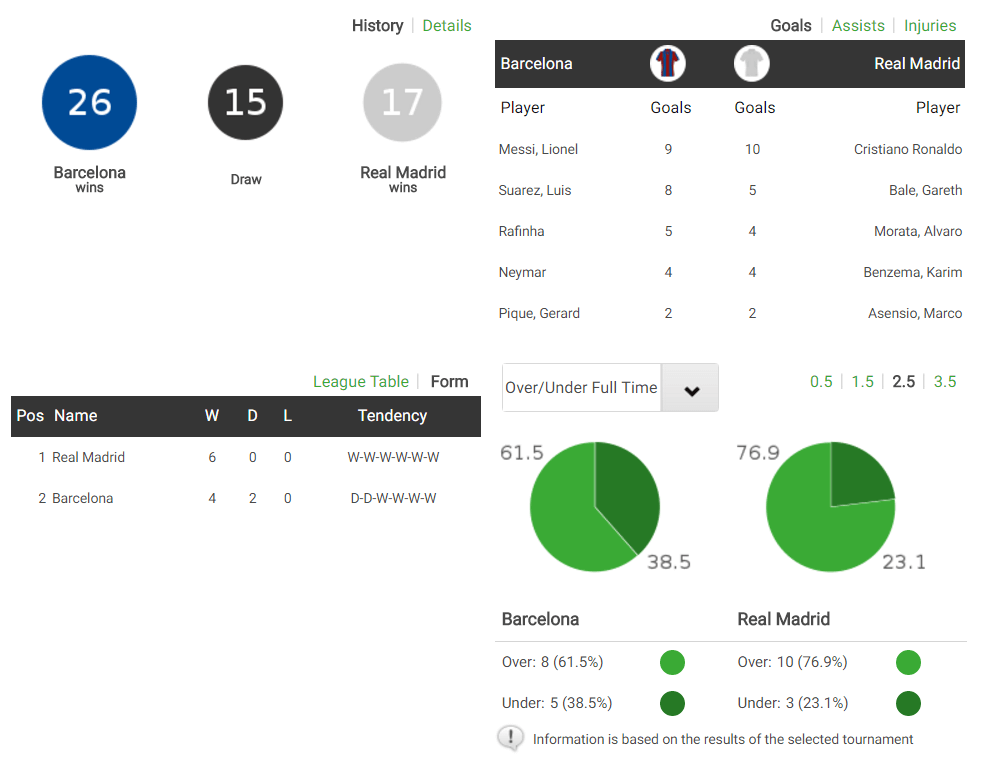 Barcelona on the other hand have been quite fortunate as all their key players will be present for the much anticipated clash. Andres Iniesta suffered a blow to his knee ligament and was ruled out for six to eight weeks last October, but has since returned to training. It's unclear whether he'll make an appearance at Camp Nou this weekend, but his services will surely be missed against such tough opponents.