All eyes were on Cristiano Ronaldo in the game against Atletico Madrid and he wasted no time in silencing critics who claim he's not the player he once was at his club. It was perfect week for Los Blancos as their Catalan rivals failed to pick up three points against Malaga and as a result, the gap between the two was widened to four points. Sevilla climbed to fourth place after their dramatic win over Deportivo la Coruna, replacing Villarreal, who stumbled against Athletico Bilbao. It's back to back losses for Diego Simeone's men and the Cristiano Ronaldo pushed down Atletico Madrid further down the table, sitting in sixth. We'll delve a little deeper at the betting information you should be looking at when placing a bet on La Liga for the weekend.
Bet on Madrid
After beating their city rivals in front of their own fans, it marked Madrid's five consecutive win and are now the highest scoring team of La Liga. Los Blancos now face Sporting Gijon at the Bernabeu and the odds are not worth the bet, as they are 1/17 and won't yield any substantial profit. Betting on goals will be a better option, especially handicap betting on Madrid, considering they found the net 18 times in five games. Odds are at evens when placing a bet on Madrid to win the game with a goal difference of four. All Madrid's last five games ended in over 2.5 goals but odds are also too low to consider, however, considering they have back to back clean sheets, a bet Madrid only to score is priced at 77/100, which is not a bad option to add to your accumulator.
Bet on Barcelona
Barcelona failed to capitalize on a relatively easy fixture by their standards and as a result, the gap between them and Madrid has widened to four points. Real Sociedad are next on the agenda, a team with high morale with their fourth consecutive win. It won't be an easy game, as Barcelona travel to Scotland for their Champions League encounter against Celtic. Messi will be back in action in the Champions League and for the La Liga clash over the weekend, as he recovered from stomach bug. Odds for Barcelona to win the game stand at 1/2, but if you're looking for something more adventurous and profitable, consider handicap betting on Barcelona, as odds are currently at 6/5 to win the game with a goal difference of two or more goals. The Catalan giants are also unbeaten in their last five games and three of those matches ended in over 2.5 goals. Betting on goals in always something to consider with such a giant club, and odds for the game to finish with three or more goals stand at 1/2.
Bet on Sevilla
Sevilla have come a long way this season and were unbeaten in their opening five games of the season. They only lost two games this season and are not third of the table with six points away from leaders Madrid. Sevilla will host Valencia over the weekend, a team who's won only one of their last five games and are flirting with the relegation zone with 11 points from 12 games. Sevilla are the favourites, but are still priced well to beat Valencia at 4/5.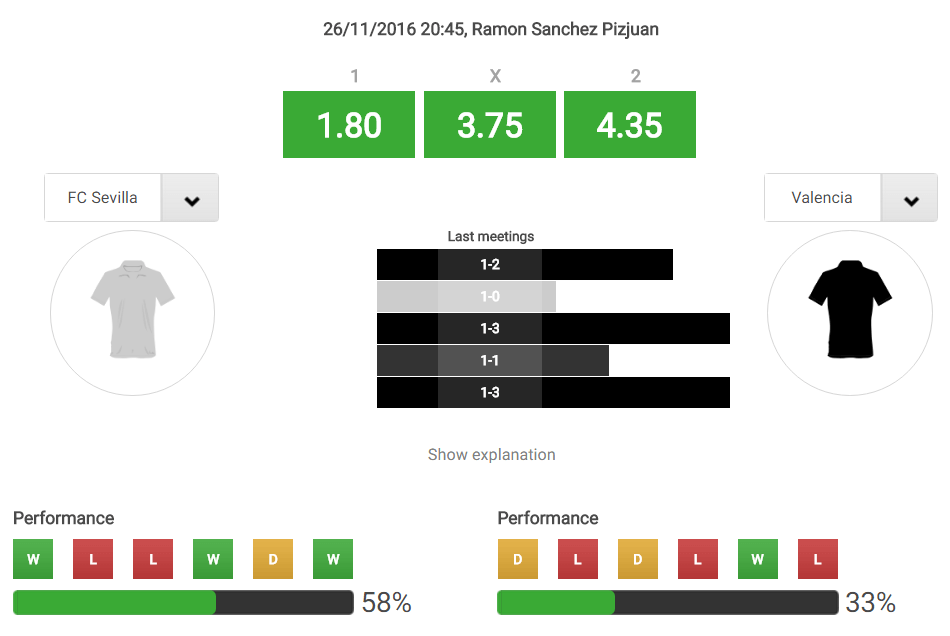 Both teams have had three of their last five finish in over 2.5 goals and odds are priced at 33/50 to end in that way and 11/9 to finish under 2.5 goals. Can Sevilla maintain pressure on Barcelona? If the Catalan giants slip up again, Sevilla will be in a better position to claim second place of La Liga.