Both Madrid and Barcelona are on their third consecutive win but Los Blancos still hold a two point advantage over the Catalonia giants. Sevilla were held against Gijon and slipped down to fourth place while Atletico Madrid bounced back in style as they put four past Malaga to climb to third place. Betting on La Liga is the most exciting it's been in years and now it's time to delve a little deeper at what you should be analysing when placing a bet on La Liga for the weekend.
Bet on Sevilla vs Barcelona
It's one test after the other for Luis Enrique's men as this will be their second tough match of the week, following the defeat to Manchester City in the Champions League. Barcelona are the clear favourites to win the game but it will be no easy encounter. Sevilla lost just one game this season and won all their home games so far. Odds for Sevilla beat Barcelona are set at 21/5, an incredibly lucrative price that will yield great profits. Want a little security to your bet? Try betting on double chance on Sevilla, as odds are currently at 10/7.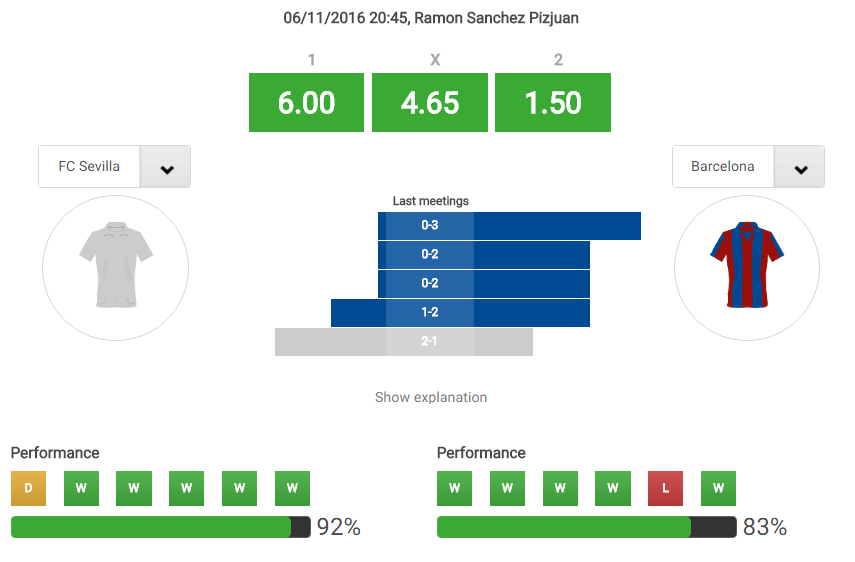 Barcelona's odds to beat Sevilla are at 4/7, which is still a good price to add to your accumulator bet. Sevilla are not a high scoring team, having found the net just eight times from their last five games and odds for both teams to score are priced at 5/9. Barcelona on the other hand, scored 15 goals in their last five games, averaging three goals per game. La Liga betting fans are hoping for this clash to be one full of goals as odds for over 3.5 are priced very well at 6/5.
Bet on Madrid
Los Blancos are still unbeaten in their campaign this season and they will be looking to extend their consecutive wins to four as they host Leganés over the weekend. As expected, Madrid are the clear favourites to win but to make it worth your while, you'd have to try handicap betting as odds for Madrid wo win with a difference of four goals is priced at 5/4. Ronaldo looks like he's back into he's scoring routine as he secured a hatrick against Deportivo Alavés. The Portuguese skipper now has five goals from seven appearances. Odds for Cristiano Ronaldo to score first are at 2/1. Three of Madrid's last five games ended in over 3.5 goals and odds for that happening against Leganés are priced at 8/15. This is a perfect opportunity for Madrid to widen the gap even further considering the tough match Barcelona have ahead of them.
Bet on Atletico Madrid
Atletico Madrid have been solid this season, having lost their only game against Sevilla away from home. Diego Simeone's men are three points away from the 11 time Champions League winners and will be looking to collect all three points as they travel to San Sebastián to face Real Sociedad. Real Sociedad are sitting in sixth place and confidence in the players will be high as they're coming off back to back wins. Atletico Madrid are the favourites to win, with odds set at 3/4 which is a good price to add to your multiples bet. However, you will be rewarded greatly if you bet on Socieded to win, as a tenner will potentially return €50. Looking for a little security to your bet? Double chance does exactly that, and odds for Sociedad to win or finish draw are priced at 11/10. Both Atletico Madrid and Real Sociedad had three of their last five games finish in under 2.5 goals and with odds of 8/11, it's a bet worth considering.